13 Ways to Make the Most of the Richmond Tattoo, Art & Music Festival
August 28, 2019

13 Ways to Make the Most of the Richmond Tattoo, Art & Music Festival
What are you doing Friday, September 13th? We'll be kicking off the 27th annual Richmond Tattoo, Art and Music Festival. This year, it's much more than a tattoo convention, though. It's a place for artists of all kinds to gather, create and connect. It's not just for the big kids, either. The little ones are invited to be artists, win prizes, and have fun. Along the way, you'll get up close and personal with some of your favorite celebrities, near and far. 
Whether it's your first time, your second time, or your 15th time, there are a few tips to take on this year's festival like a champ. From veterans and organizers, here's the insider's guide: 
Park like a VIP
Parking is premium at the Double Tree by Hilton in Midlothian. The best way to get out of your car and inside to the 150 artists is to secure a VIP ticket ($100). The ticket will earn you premium VIP parking. Bonus: you'll be able to arrive earlier all three days with a VIP entry, which also means more parking. If the VIP ticket isn't in your cart, then look for the Toys 'R' Us parking lot where shuttles will be continuously running all day. 
Book a Room
We're taking over the hotel. That means all of the celebrity artists, too. Wake up and have brunch with them. Stay safe knowing you can drink and don't need to drive home. The Double Tree is here for you. There are still rooms for you to join us at a discount. You can book with a more than $10 discount, too.  Click here to book a room. 
Show Off Your Tattoo
We know you have that one tattoo you love. Maybe you have 10. Maybe you like all of them. For $15, you can enter your favorite tattoo in the many Tattoo competitions throughout the weekend. If you have more than one you love worthy of the honor, enter each one for an additional $5. There are $15,000 in cash and prizes up for the taking.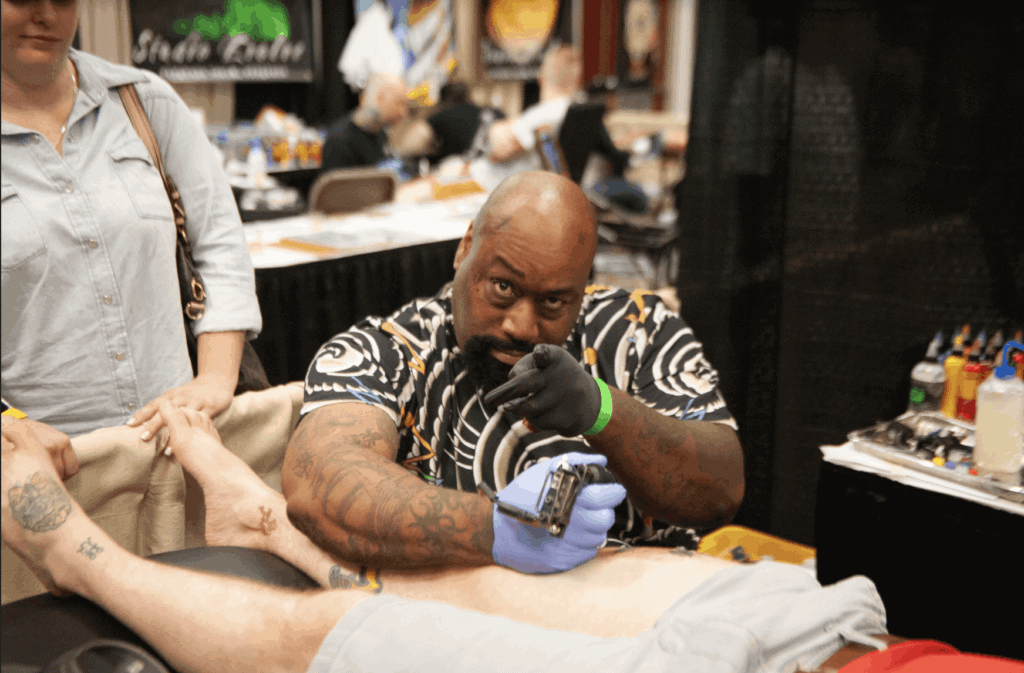 Want ink? Schedule ahead of time or arrive early.
Artists at the festival are from around the world. Each one is hand selected to bring you the most curated and diverse collection of creators. Some may only be in Richmond for this one weekend. This is your opportunity to get the design you've been daydreaming about. The best way to guarantee you walk away happy is if you schedule the artist you love ahead of time. All 150+ are listed here. Each artist profile has a link to the artist's email. Use that to preschedule your appointment. If you aren't sure ahead of time, arrive early for walk-up appointments. 
Cash is King
Credit card machines are available for purchases and ATMs are placed throughout the festival, but bringing your own cash ahead of time will be helpful. If you'd like to drink, the festival has three to four cash bars inside. Your artists also appreciate cash payments to avoid credit card fees. If you don't pay for your tattoo in cash, then consider tipping in cash. Did we mention you should always tip your artists? No? Always tip your artists.
You Can Get a Free Tattoo
We're pretty excited this year's festival starts on Friday the 13th. We're so excited that we're offering free Friday the 13th tattoos. On a first-come basis, step up to our "glory hole" and offer up your limb for a free Friday The 13th Tattoo. One of our hundreds of talented artists on site will lay it on you. The catch? You can't choose the artist or the tattoo. If the glory hole isn't your thing, come Saturday and Sunday to the open table of new artists offering flash tattoos for free.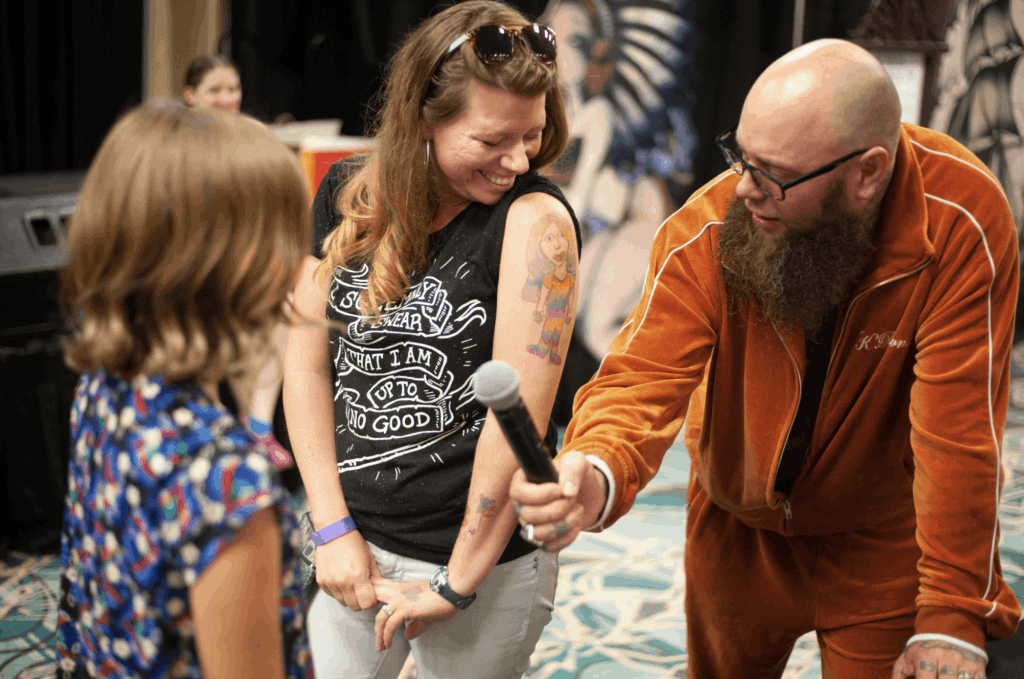 Bring the Family (Before 8 p.m.)
We want the kids to get in on the artsy fun, too. Throughout the weekend, face painters and caricature artists will be embedded in the festival. Saturday and Sunday, a bouncy house is open for all the very important bouncing business your crew needs to take care of. Your kids can take a try at being tattoo artists, themselves. Don't worry, they're using non-toxic markers. You can volunteer to be their canvas when they enter the Kids Tattoo Contest. Prizes from Laser Quest, World of Mirth, NarWhals Rolled Ice Cream, and Loose Screw Tattoo. No matter what, each child will walk away with a prize. 
Go Outside
With 150 artists manning tables inside the convention, you may be tempted to stay inside. We don't blame you, but we do recommend taking breaks throughout the weekend to get some sun, fresh air and live art. All weekend long, you'll see artists including Esao Andrews and OG Abel creating large pieces of work in real time outside. The Live Art for Charity pieces will be auctioned online the week following the event for the Giving Arts Foundation. Outside is also where you'll find live music from Jon Markel of Carbon Leaf, Cas One, and more.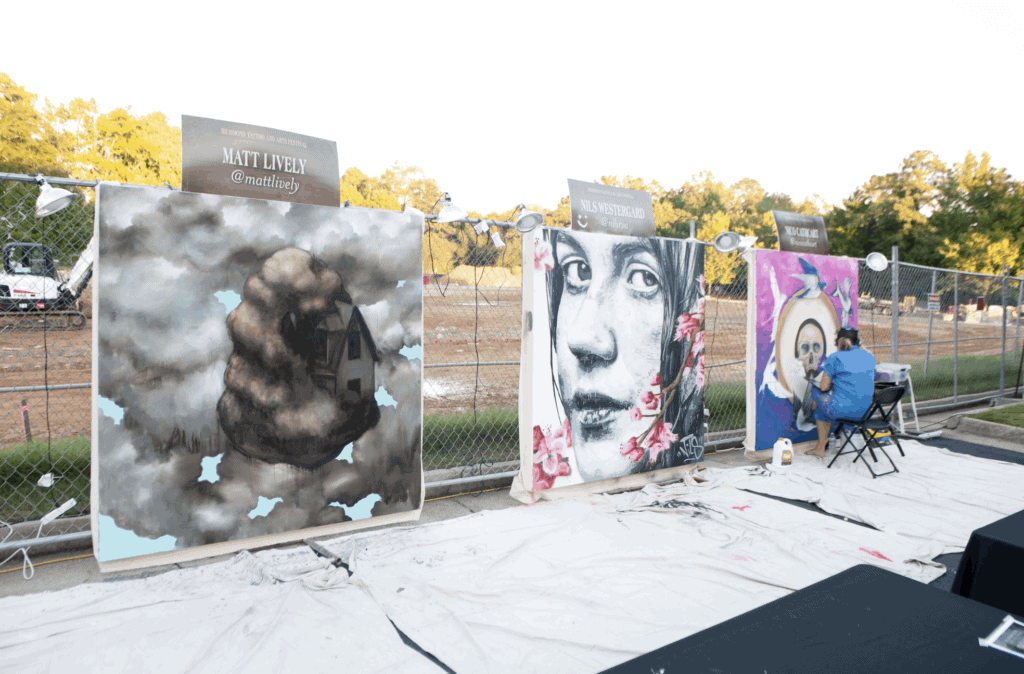 Work the Event or Know Someone Working
Bringing one of the oldest and largest tattoo conventions to life is no small task. The festival actively recruits volunteers, which means anyone excited to roll up their sleeves (not the permanent ones) can be a part of the pulse. Click here to sign up to work. When you do, you'll earn more perks than the public guests. That includes access to the VIP lounge with food from Pepe's (Mexican!), Les Crepes (French!), and Nama (Indian!) and more.
Make time to Laugh
Into comedy? How about sex? Us, too. On Friday and Saturday evenings, the comedy act of the weekend will have you rolling, cringing, and maybe sweating.  The Air Sex Competition invites crowd members to give their best impressions of coitus. As you egg them on, the judges will attempt to keep straight faces. The winner gets one of $15,000 in prizes up for grabs during the weekend. You won't find anything like this in the area. Come laugh with us. 
Stay Late
After a long day of tattooing and vibing with hundreds of artists, it's time to sit back a little. By 8 p.m. the party comes alive. A number of shows will hit the stage including a fire breathing Cervena Fox. More burlesque and belly dancers will perform while DJs set up in the Atrium including DJ Phenom on Saturday night. Technically the party lasts until 2 a.m., but we may see you around the hotel much later.  If you don't have a festival ticket, you can purchase an evening entertainment ticket.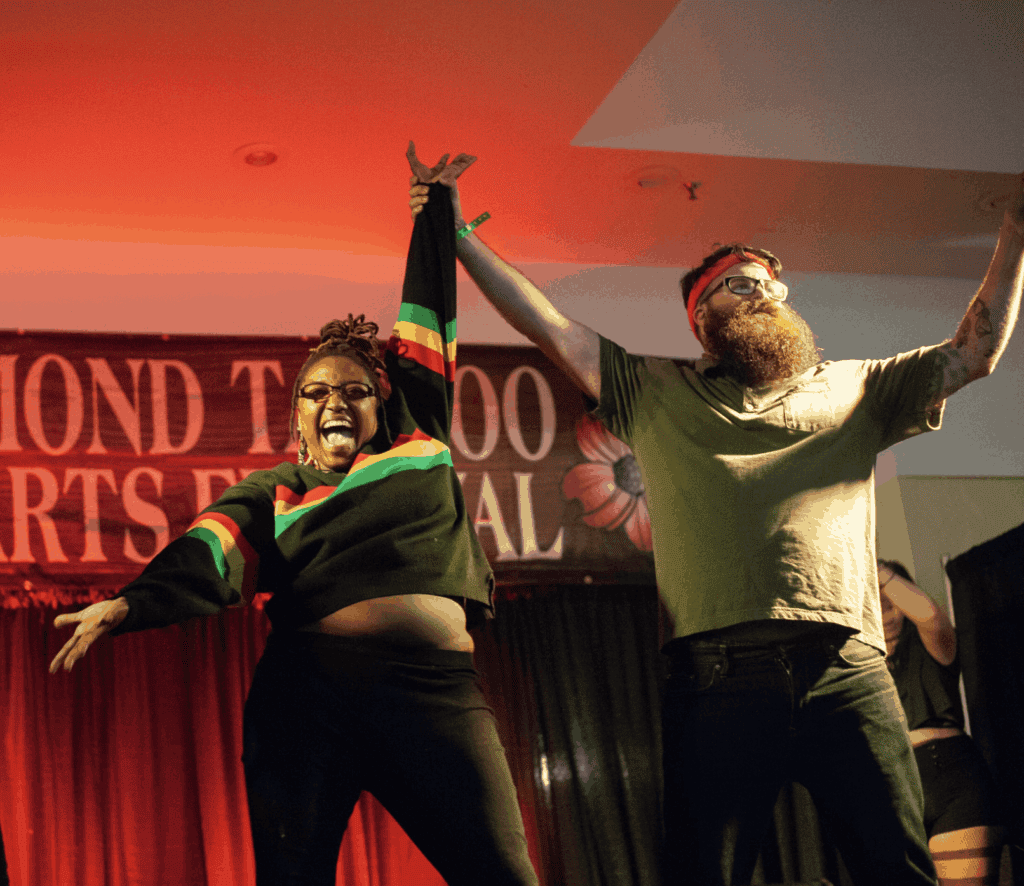 Brunch Buffet
Did we mention you should stay at the hotel? One of our favorite reasons is brunch. Whether you plan to stay for the night or want to come in early for the festival, grab a plate the Double Tree's brunch buffet. It's not free, but it's good and the perfect fuel for the day. Artists who stay at the hotel will be eating there, too. Share a cup of coffee with Ryan Ashley. Ask Cleen Rock if he likes ketchup or hot sauce on this eggs. 
Don't Forget Your Cookies
You crushed the coolest tattoo and arts festival on the east coast. You deserve a cookie at least. Swing by the front desk for your final reward.